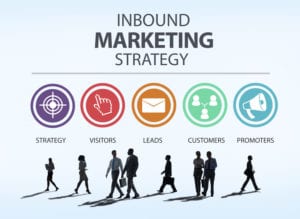 If there is one thing you want to start doing immediately in regards to marketing, it is to develop an inbound marketing strategy.  Doing so will help you attract quality leads by meeting the prospect where they are in the buyer's journey.
We employ the four-stage methodology of inbound marketing.  Those stages include the attract stage, the convert stage, the close stage and the delight stage.  When these four stages work in unison, you can turn prospects and leads into lifelong customer and evangelists for your brand.
Our Inbound Marketing Services include:
Content Creation: Blogs/Articles
Web Page/Landing Page Copy & Design
On page SEO Optimization
Email Marketing Campaigns
CRM Set-up & Management (HubSpot Certified)
Customer Buyer's Journey Development and Implementation

Persona Creation
Chart Matrix Creation
Content Mapping
Content Updating

Marketing Platform Integration & Automation
Call-To-Action Strategies
Social Media Inbound Strategy
Contact us for more information.
[contact-form-7 404 "Not Found"]